Courtleigh Hotel Group's recreational experiences.
The Courtleigh Hotel Group's hotels provide a variety of offerings for different kinds of recreational experiences.
The Holiday Inn Resort Montego Bay offers the opportunity for a weekend getaway or just a day or night pass if you want something shorter. Take advantage of the all inclusive experience. Drink and eat to your heart's content at the Seabreeze Restaurant, Kenko Japanese Restaurant, De Terrace Restaurant or the Jerk Hut.
Experience the white sand beach and do so with the human interaction of other guests around you as well as our entertainment staff to add some vibes to the day or night. Swim or wade across to our Tek It Easy island just off the main beach. That will add an interesting twist to your beach experience.
Or maybe you're seeking a more adult experience and will prefer our adult swimming pool and swim-up bar.
If you want to get out of your home for a more cultural experience, Kingston is always an exciting option.
A weekend stay at one of our Kingston hotels namely The Courtleigh Hotel and Suites and The Jamaica Pegasus would be highly recommended. From any one of these accommodations you can explore Kingston's culture, history and cuisine. Or you can go a little further and take a trip into the Blue Mountains from there to see the spectacular peaks or visit a coffee plantation.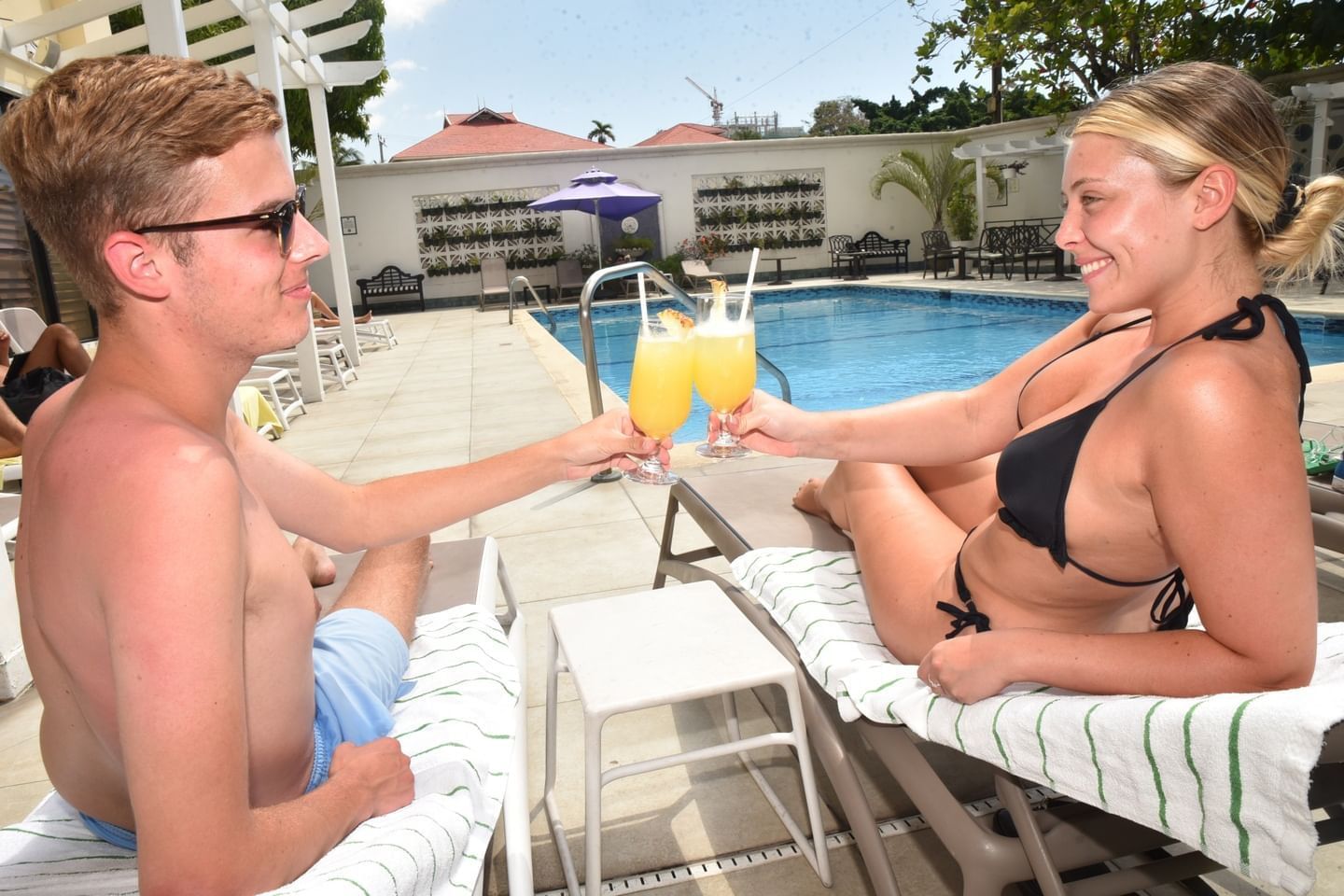 Contact us to get information on our weekend packages.
Our local and international award-winning restaurants within the hotels such as Alexander's at The Courtleigh, The Melting Pot at the Knutsford Court and The Blue Window or 24 Seven Cafe at The Jamaica Pegasus offer a wide array of both local and international cuisine. Here you'll find other explorers of the Jamaican experience like yourself or Jamaicans who have become regular patrons of these establishments.
Maybe you want to get out of the house just to be pampered. The White Orchid Salon & Spa at The Jamaica Pegasus does body treatments, massages, facials and more administered by an expert therapist.
The hotels can add so much dimension to your vacation even if you are based at a villa or apartment. We can fill the gaps.
It may be someone's birthday in the family or group. Maybe a wedding is in the plans. Or a bachelor or bachelorette party. Whatever the special occasion our banqueting professionals at any of these hotels can plan your event which may be more convenient and provide more options and space at our venues. Let us plan and prepare the meals, do the decor and arrange for any other professional services that you may need.
Feel free to contact us before you travel to Jamaica or call us from your villa or apartment if your needs are more spontaneous and in the moment. We can book your weekend getaway or day pass, make a restaurant or spa reservation or plan a special event. We are just a telephone call or email away.